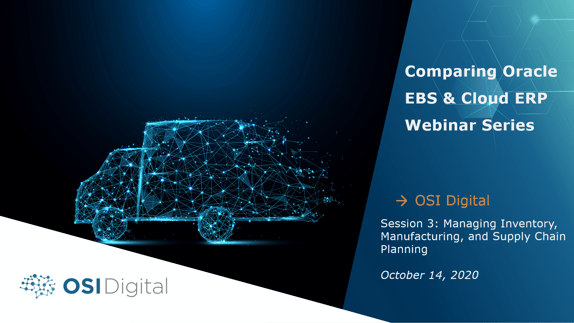 Most organizations that currently use Oracle EBS to manage their operations are at cross-roads in terms of deciding on their go-forward application strategy. The options are many and the choice between staying on EBS vs. moving to Oracle's Cloud ERP is not necessarily an easy one. In fact, the answer could be different for each situation.
In this five-part series on Comparing Oracle EBS & Cloud ERP, we attempt to help guide you in your decision-making process by comparing the functionality between EBS and Cloud ERP in terms of features, business impacts and use cases. We also aim to highlight the nuances involved in moving from EBS to the Cloud in terms of data, processes and technology – all key factors that should be considered while making your decision.
In this third webinar in the series, we will consider the inventory and manufacturing management in both applications and touch on supply chain planning. We will highlight the similarities and the differences between the two applications and touch on the equivalences and comparative benefits.